About Me
Get Involved


Action Corps Community
Oxfam en español
Friday, November 08, 2013 |
Posted by Oxfam Action Corps NYC |
|
Edit Post
I had a great time cheering for runners from the
Oxfam team at the NYC Marathon
. This was Oxfam's first year participating as a charity team. (They were supposed to have a team in 2012, but the marathon was canceled after Hurricane Sandy.) For me, anyone who undertakes a marathon must be a hopeful person who believes that hard work and struggle will pay off in the long run despite difficulties along the way. That is a great metaphor for those of us working for social change, and reminds me of one of my favorite quotes "Hope is believing in spite of the evidence and then watching the evidence change" (Jim Wallis).
If you follow the activities of the Oxfam Action Corps NYC, you will know that we have had quite a busy summer and fall.
We weren't sure whether we would be able to set up a cheering station at the marathon or not. But given that the New York City Marathon is like a fun, citywide block party, often with a social purpose (several people running for charities and others with messages such as "Boston Strong") and that a handful of Oxfam staff members and supporters were part of the Oxfam team (including Clara Herrero, an Oxfam America staff member from Boston who provides incredible support to the Oxfam Action Corps program; Leah Sedler, a former Action Corps co-leader from Minnesota; Louis Belanger, an Oxfam International press staff member based in New York) who collectively raised almost $40K for Oxfam, how could we let them run by without a great New York City and Oxfam Action Corps NYC welcome and cheer?
Our cheering station was very spirited. We were joined by Oxfam staff members Jessica Glidden and Zoya Craig. Jessica coordinated the Oxfam Marathon team, and brought materials to use to cheer with. She also brought sport gels to pass out to the runners. Zoya had very funny signs, including one that said "Chuck Norris never ran a marathon." Several runners stopped to take photos with her signs.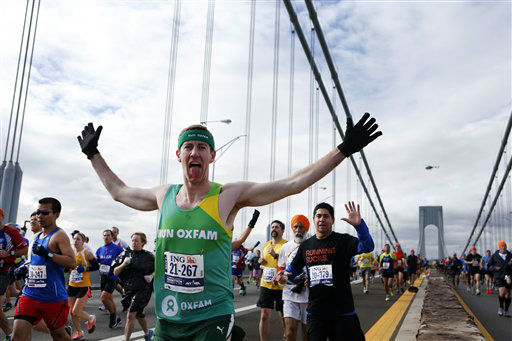 Cheering was also a great reminder of how important it is for us to support, care for, and be gentle with each other as we work for social change. Running a marathon, like working for social change, is hard work and requires endurance. I completed a walking marathon (yes, 26.2 miles) in London, and a walk around the perimeter of Manhattan (32 miles), and for me, the last few miles were always the hardest. Cheering at mile 22, we saw quite a few runners and walkers who seemed a bit injured and maybe not sure if they would make it for the last 4 miles. Those were the people we cheered for the hardest. A touching moment in the marathon for me was when one of the runners, Clara Herrero, from the Oxfam team was not feeling well on arriving at mile 22, and one of our Action Corps members, Isaac Evans-Frantz, decided to run along and support her through mile 23. It was a beautiful metaphor for me of how much it can mean to support each other along the way. Those of us working for social change can get discouraged, and it is important to look out for each other, cheer, and run alongside someone when they need it. Isaac is the Action Corps' Alliances Coordinator, and he is also very supportive of our allies. Watching people support each other in the marathon reminds me of the proverb "Alone we can go fast, but together we can go far."
Finally, the marathon is a good reminder that we need to celebrate our victories along the way. It is important to celebrate when you cross a finish line. We want to celebrate runners' successes, such as completing the marathon. As organizers and advocates, we need to take time to celebrate victories with lobby visits and campaigns such as "Behind the Brands." Speaking of marathons and celebrations, while we continue to campaign for Pepsi and Associated British Foods to do their part to stop land grabs from happening when they purchase sugar, we have a major victory to celebrate that
Coca-Cola has declared zero tolerance for land grabs in their supply chain
! Whether your glass has water, cola, or champagne, we can all raise a glass to that news.
by Elizabeth Norman